Uttarakhand annual flower festival Vasantotsav Spring Festival 2019 began on Saturday at the Raj Bhawan in Dehradun. The event was inaugurated on March 9 by Uttarakhand Chief Minister Trivendra Singh Rawat and Garden and Food Industries Minister Subodh Uniyal. Different varieties of flowers grown in the state and brought from outside will be on display at the event promoting floriculture.
The flower exhibition will open to the public from 10 am on Sunday. Around 150 varieties of flowers will be featured at the festival of which 125 are grown at Raj Bhawan itself. Attractions of the event include potted plants management, loose flower management, cactus and succulents, hanging pots, on-the-spot photography, painting competition. Other activities scheduled for the day include yoga, Judo-karate, Khupri dance and other cultural programmes.
Activities scheduled to be held at Vasantotsav
The festival will also host art competition for school children, which also encourages the participation of differently-abled students. Promoting clean environment, Governor Baby Rani Maurya declared that the event will be polythene free. She also issued the cover of the event released by India Post portraying Uttarakhand's native Akarkara flower known for its rich medicinal qualities. The event will also promote vertical gardens encouraging small space planting for those living in apartments or cities. People will be taught how to create beautiful gardens that occupy less space.
Children at the event: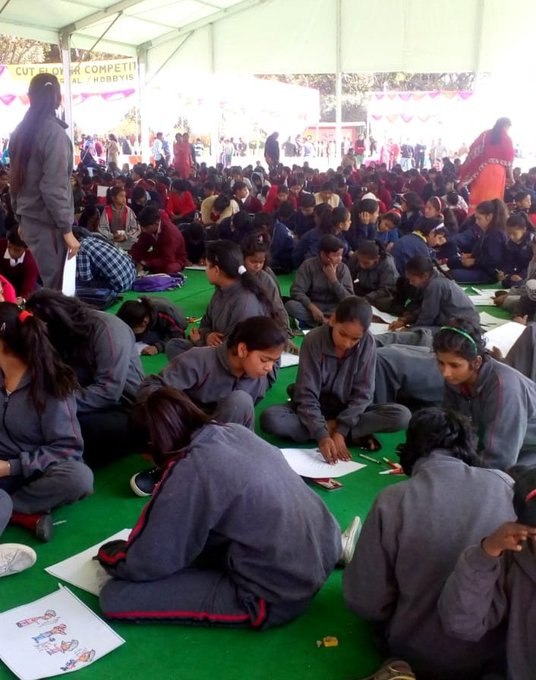 Some of the popular flowers produced for commercial purposes in Uttarakhand include Gulab, Menda, Rajnigandha flowers, such as Zerbera, Carnation, Gladiolus, Lilium, Orchid mostly in the form of cut flowers. Later in the day, Governor will distribute about 150 awards under nine broad categories and 50 sub-categories to be distributed. Meanwhile, many parts of Uttarakhand has been receiving fresh snowfall, attracting tourists from around the country and outside.
["source=latestly"]