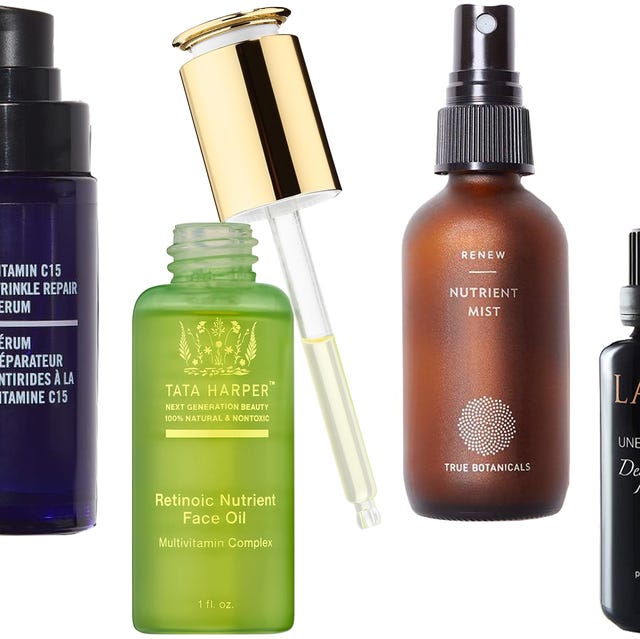 Take a minute to think about your skin as if it were your stomach. Imagine eating a diet full of processed foods containing preservatives, stabilizers, artificial sweeteners, and filler ingredients like high fructose corn syrup. Not only would you miss out on all the nutrients and antioxidants needed to maintain optimal health, but you would damage your gut by killing the positive bacteria that helps to absorb nutrients when you do decide to eat a vegetable.
"It's the same thing on the skin," says holistic esthetician Kristina Holey. "If you're using conventional beauty products with a ton of preservatives, fragrances, and stabilizers, you're going to damage the skin's microflora which will impair your skin function and have the worst impact for skin quality and appearance." For Holey, clean skincare means using nutrient-dense ingredients (while avoiding damaging chemicals) to support and nourish the skin's bacteria for effective results. She adds that buying local is important when looking for clean skincare: The longer the shelf life of a product and the farther it traveled, the more additives and preservatives you'll find in the ingredient list.
With that in mind, we found, tested, and vetted the best clean skincare brands out there for brighter, clearer, smoother skin. When used properly, these natural alternatives are some of the best wrinkle fighters and collagen boosters on the market.
Key: V (vegan), O (organic), S (sustainable)
1
ANTI-INFLAMMATORY
Unburden Serum
Laurel Whole Plant Organics
thedetoxmarket.com
$88.00
A pioneer in the "farm-to-facial" space, Laurel's all-natural products are certified organic or certified Biodynamic.
Using the latest research in plant science and herbalism to guide its formulas, Laurel focuses on using the whole plant (as opposed to an extraction or derivative). Each ingredient is raw and unrefined with no chemical solvents used during the production and manufacturing process.
The Unburden Serum is crafted to soothe sensitive and breakout-prone skin by addressing blemishes, excessive dryness, broken capillaries, inflammation, redness and rosacea, loss of elasticity, and even hyper-pigmentation.
Tip: Spritz with a mist, or slightly dampen your face with water before using an oil serum, says holistic esthetician Britta Plug. "Your skin needs to be hydrated to prepare the skin to absorb the oil, otherwise the oil will just sit on top of your dry skin and you'll have a bad experience. You won't feel moisturized but you'll still feel greasy—neither of that sounds good!"
V, S, O
2
GENTLE OIL CLEANSER
Pure + E.O. Free Oil Cleanser
Marie Veronique
credobeauty.com
$40.00
When cult facialist Kristina Holey and chemist Marie-Veronique joined forces to create a clean skincare line, the criteria was simple: Each product needed to be natural, toxin-free, and 100 percent functional (a.k.a safe products that truly work). The result? Superior, cutting-edge skincare using the latest findings in skin physiology and microbiology for soothed, nourished, and healthy skin.
The Pure + E.O. Free Oil Cleanser (essential oil-free) is for anyone who loves an oil cleanser but hates having to take it off with a washcloth. Utilizing the principle of "oils dissolve oils," this scent-free cleanser effectively removes debris, sunscreen, and makeup without stripping the skin for a smoother, clearer complexion—it's a deep clean without the hassle. Just rinse and pat dry!
Tip: Using an oil cleanser without a washcloth is usually a no-no, says holistic esthetician Britta Plug, but the Pure + E.O. Free Oil Cleanser contains emulsifiers that allow you to simply rinse it off with warm water. "With other oil cleaners, you need to use a washcloth or it's going to leave a greasy layer of oil on your face—it would be like putting conditioner in your hair and not rinsing it out. You're just going to stay super greasy."
V
3
RICH MOISTURIZER
Skin Food Original Ultra Rich Cream
The OG of natural skincare, this nearly 100-year-old brand started as a pharmaceutical laboratory with its own plant garden. Today, Weleda continues to be a leader in well-priced, certified natural by NATRUE skincare products that work with the body's own ability to heal.
Ingredients come from fair-trade, biodynamic, and organic gardens, with the plants prepared as quickly as possible after harvest. And as for what to do with your empty bottles—Weleda has recently teamed up with Terracycle to make the recycling process seamless.
Originally launched in 1926, the Skin Food Ultra-Rich Cream has been a cult favorite ever since.  An ultimate moisturizer for dry, rough skin, the cream is intensively hydrating and dermatologically tested for skin safety.
Tip: A little goes a long way. Apply as needed, whenever and wherever your skin needs extra moisture.
4
GENTLE EXFOLIATOR
Active Enzyme Exfoliator
Josh Rosebrook
follain.com
$65.00
What happens when three natural cosmetic chemists, an aromatherapist, and a herbalist, team up with former hairstylist Josh Rosebrook? Organic, wild-crafted skin and hair care products that work with the body's own biochemistry to support the skin's own innate healing abilities.
Rosebrook's enzyme exfoliation both regenerates and restores the skin's outer layer, gently sloughing away dead skin cells while helping to stimulate collagen production and skin cell turnover. It's also gentle enough for inflamed and sensitive skin (the honey acts as an anti-inflammatory).
Tip: Apply in slow circular motions to avoid mechanical exfoliation. Leave on for 40 minutes to penetrate skin, then use warm water to rinse before patting dry.
O
5
HYDRATION MIST
Wildling Empress Tonic
Wildling
freepeople.com
$49.00
Developed by plant alchemist and herbalist, Jill Munson; holistic esthetician, Britta Plug; and acupuncturist and herbalist, Gianna De La Torre, Wildling is a ritual-based skincare line founded on a deep understanding of plants and herbs.
Made from wild and freshly-harvested ingredients, Wildling's 100 percent organic skin tonic is one part of a three-piece facial gau sha system that helps to improve skin tone, reduce the appearance of puffiness, and decrease the appearance of under-eye circles.
Used to prepare the skin for at-home gua sha, the tonic uses sweet fern to clear a congested lymphatic system and douglas fir to improve circulation. Meanwhile, Wildling's packaging come from Forest Stewardship Council-certified paper, and all of their products are certified cruelty-free by PETA and Leaping Bunny.
Tip: Spritz before applying an oil serum, before a gua sha ritual, or simply to hydrate and refresh throughout the day.
V, O, S
6
VITAMIN C
Vitamin C15 Wrinkle Repair Serum
Naturopathica
follain.com
$114.00
Founded in 1995 by Barbara Close—a pioneer in the wellness movement with a degree in Therapeutic Herbalism—Naturopathica believes in the healing power of plants and is committed to clean, sustainable ingredients.
The brand takes a holistic approach to health and beauty, looking at the root cause of a skin issue rather than fixing the symptom. Its organic, sustainably sourced natural ingredients are audited and certified by Ecocert, while its synthetic ingredients are developed using green technology.
The Vitamin C15 Wrinkle Repair Serum contains 15 percent L-ascorbic acid, and uses hyaluronic acid tp boost moisture and to calm irritation. Over time, the serum alleviates fine lines, wrinkles, hyper-pigmentation, and sun damage.
Tip: Apply a pea size amount to fingertips and massage into skin in a circular motion morning and night. Follow with your daily moisturizer or cream.
O, S
7
CALMING MOISTURIZER
Chamomile & Rosehip Calming Day Cream
If you have sensitive skin, it's important to know exactly what's in your products. Which is why Sarah Brown, who struggled to find products that would soothe her skin without an ingredient list full of synthetics and known irritants, launched Pai: To provide products that promoted healing, hydrated without heaviness, and calmed inflammation and redness.
The Calming Day Cream is formulated with chamomile to soothe and support the most sensitive and reactive (even eczema-prone) skin, delivering long-lasting relief. Meanwhile, rosehip oil protects the skin against environmental stress.
Tip: Massage one to two pumps into clean, dry skin daily in the mornings.
V, O, S
True Botanicals
truebotanicals.com
$48.00
After being diagnosed with thyroid cancer, Hillary Peterson struggled to find beauty products that wouldn't further disrupt her endocrine system. So in 2014, she launched True Botanicals using high quality ingredients like plant-derived peptides, antioxidant-rich oils, and soothing ceramides—all without chemicals known to harm human and environmental health.
Prioritizing both certified-organic and wild-harvested ingredients, all of True Botanical's products carry the MADE SAFE seal. Peterson is constantly seeking the latest scientific advances to botanical extracts, and takes sourcing seriously, tracing ingredients to their origins to ensure that their cultivation and production are sustainable for the local community, as well as the environment.
Formulated for oily and breakout-prone skin, the Nutrient Toner will leave you feeling—as many reviewers gush—clean, healthy, and radiant.
Tip: Don't apply directly to your face. Instead, reach for an organic unbleached cotton pad (preferably a reusable one!) and sweep the toner over skin after cleansing.
V, O, S
9
EYE CREAM
Vis Clair Supreme Firming Eye Complex
In Fiore
beautyhabit.com
$185.00
Approved by esthetician Kristina Holey, In Fiore is  a skincare brand inspired by old-world apothecaries.
Skilled formulator and founder Julie Elliot uses organic, raw materials rich in nourishing vitamins, minerals, enzymes, and proteins, with a focus on high quality ingredients formulated with care. "Florals and herbs are nuanced," explains Elliot. "If an organic ingredient is mistreated in the process than that given label loses its value."
The iconic Vis Clair Supreme Firming Eye Complex is an advanced eye treatment (a serum and cream in one) that helps to slow cellular aging by targeting fine lines, puffiness, and dark circles, while soothing inflammation and strengthening the skin's barrier to protect the eye area from environmental stressors. A subtle fragrance occurs naturally from rose extract, orange flower distillate, and a minimal dose of neroli and rose essential oils.
Tip: This eye cream may be expensive, but you don't need much. Scoop half a pea-sized amount and gently apply around the entire eye area, including the upper and lower lids.
O
10
RETINOL ALTERNATIVE
Retinoic Nutrient Face Oil With Vitamin A
Tata Harper
sephora.com
$48.00
Founded in 2010 on a 1,200-acre organic farm in the Champlain Valley of Vermont, Tata Harper is known for its pure, performance-based products.
Formulated by female scientists using more than 300 raw ingredients, each product is certified by ECOCERT and packaged in glass with soy-based ink for printing. What little plastic the brand uses is derived from corn (instead of petroleum), meanwhile packaging is made from 100 percent post-consumer materials, or recycled paperboard.
The Retinoic Nutrient Face Oil targets all signs of aging through a natural form of retinoic acid from vitamin A. The face oil is suitable for irritated skin, and reduces the look of wrinkles with a blend of 100 percent natural botanicals including 11 vitamins, 18 nutrients, and six minerals—74 percent of which are from organic farming.
Tip: As the last step to anti-aging regimen, apply a thin layer around your entire face and neck daily. Spread it by lightly massaging in circular motions.
V, O, S
11
SPF MOISTURIZER
Force Field Daily Defense Lotion
Ursa Major
follain.com
$54.00
The Vermont-based makers of Ursa Major (meaning 'The Great Bear' in Latin) are known for their exacting standards for health and effectiveness.
Made for all genders and skin-types, Ursa Major products will make you want to switch to plant-powered skincare—if you haven't already—thanks to the founders' passionate commitment to making all-natural formulas that truly work.
Their Daily Defense Lotion is a silky-smooth, mattifying moisturizer with broad-spectrum mineral sun protection (non-nano zinc, of course) and anti-aging benefits.
Tip: The last step in your beauty routine, massage a half pump onto your face and neck. We also recommend their Blog Cabin for further clean skincare reading.
V, O
12
TRAVEL CLEANSER
Enzyme-Refine Cleanser
Maryse
simonjamesdesign.com
$55.00
This small-batch New Zealand brand boasts a tight collection of nutritive skincare products formulated by natural beauty specialist Maryse O'Donnell.
Focusing on a pared-back approach to beauty, MARYSE uses organic, New Zealand-native ingredients like botanical extracts and key phytonutrients —including omega fatty acids, minerals, vitamins, and antioxidants. The Enzyme-Refine Cleansing Balm is a multi-tasking cleanser that gently melts away impurities and makeup without compromising hydration.
Tip: Carry this compact jar with you everywhere: to the gym, on the plane, in your handbag for unexpected sleepovers. The balm consistency makes it the ultimate on-the-go cleanser.
["source=harpersbazaar"]