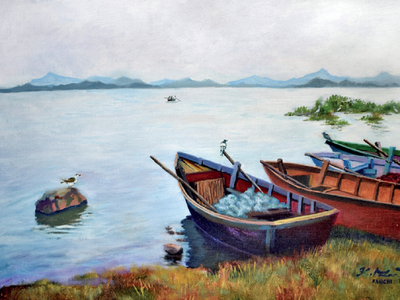 Reality check
Artists AZ Ranjit, V Mohan, Amitha Madhan and K Ramachandran have a similar affinity towards realistic paintings and this is what their group show is also about. They feel realistic and representational art is honest art, which is increasingly being sidetracked. At Vismaya Gallery, Rangoli Metro Art Center, MG Road, from 11am to 7.30pm, on February 11, call 2296926
Women in focus
In line with some of her previous art collections One Tribe, Mother Earth, Colours of Sand, and Desert Song, Bharti Prajapati's Earth Story – The Elements narrates the intrinsic bond between the five elements of nature, i.e. Earth, water, fire, air and space. The show is about the wonderful co-existence and interaction between living beings and their surroundings. AtGallery g, Lavelle Road, from 10am to 7pm, on view till February 29, call 22219275
Natural ways
Nature is the muse of this fundraiser art exhibition. Called Mystical Hues, the show is curated by Ganpathi Hegde, Amit Bhar, Bandana Kumari, Anjaneyulu, Roy K John,Vaikuntam, Lalu Prasad Shaw, Senaka Senanayake, Suresh Gulage, HR Das, JMS Mani, and it brings
together artists from across India, Nepal and Sri Lanka. At Taj West End, Race Course Road, from 11am to 6pm, on view till
February 17, call 66605660
Planet first
The ongoing Whitefield Art Collective is billed as a show to reinforce Bengaluru's position as one of India's premier art destinations. Staying true
to its promise, it has on display an array of installations, exhibitions, a dessert bazaar, an art market, art cinema screenings and more – all on the
theme of sustainability. At VR Bengaluru, Whitefield Main Road, Mahadevapura, from 10am, on view till March 5, call 46693469
Singles in the house

Are you tired of swiping left and
right on dating apps? Are you looking for a friend to bond over Netflix and Spotify? Do you need peeps to join your travel plans? Drop by the Valentine's edition of Tuesday Swipe Nights – all singles' party, to meet new people over beer and a DJ night.
WHERE: Foxtrot – House Of Subculture Block 3, #17, 1st Cross Road, Koramangala 1A Block
WHEN: 9pm onwards, February 11
ENTRY: `200, eventshigh.com
Words that matter
Attend a special edition of 'Tuesdays with the Bard', which will feature a collective of poets called Chautauqua. Conceptualised by Shobana Mathews and Prashant Parvatneni, this group is committed to the quest for beauty and truth. The line-up will not only include Mathews and Parvatneni but also Kevin Fernandes, Isaac Nico, Shyam Buddh, Atish Padhy and Syed Umer.
WHERE: Urban Solace, near Ulsoor Lake WHEN: 8pm-9.30pm, February 11 ENTRY: `100 CALL: 9845013055
The art of giving
Do you want to do your bit for the society but don't know where or how to start? Then join this firechat
between Kumari Shibulal, founder and chair of Shibulal Family Philanthropic Initiative, and Margeret 'Peggy' Dulany Rockfeller, founder and chair of Synergos, who's also a noted American philanthropist. The focus of the discussion will be 'The need for individual participation in philanthropy'. It is being hosted as part of the second edition of 'The Amplio Speaker Series', which aims to inspire individuals and organisations
to give back to the society.
WHERE: Ballroom 1, The Taj West End, Race Course Road WHEN: 6pm,
February 14 ENTRY: First-come-first-serve basis CALL: 9871234554
Ideate, create, win
Do you have an idea that can change the world or at least make a difference in the field of financial technology (fintech)? Then sign up for IncredibleHack, a 24-hour hackathon designed for creative disrupters.To be held over the weekend, it will commence with a keynote presentation, where the founding team of Crediwatch, a Bengaluru-based TechFin company, will introduce the concepts. After that, the participants will be provided with problem statements that are centred on the burgeoning world of fintech and that they need to come up with solutions for.
The event is invite-only and the shortlisted candidates will receive the invite a few days prior to the hackathon. So apply now and give wings to your ideas.
WHERE: Crediwatch, 4th T Block East, Jayanagar
WHEN: 9am-2pm, February 15-16 REGISTER: skillenza.com
["source=bangaloremirror"]